Originally posted on March 3, 2008
Days 3 & 4 Revisited (Pre-op)
Current mood: giddy
Due to being checked into the hospital and other mandatory things, I kinda glossed over days 3 & 4. Things are coming back to me. Slowly. In fact I had to go back and read to see what I posted. Thank goodness for the archives section. Of course I stupidly deleted things in early January, not knowing the 'older' section existed. I do now.
Saturday, I was awake early as the arrival of Gail, Michelle, Linda and Carrie would be semi-early. As I was sitting in my room killing time, I realized that I was in a convalescence home and one of the girls wasn't dealing with the stent and other pains well. Of the ten Mod Chicks, I had three of the loudest ones arriving. I quickly fired a text warning them to "shhhhhhh", much to their dismay.
They did arrive and were actually quiet (phew). We headed to downtown Montreal and grabbed lunch. Michelle has a phobia of clowns. As we left the restaurant, what was standing right outside the exit? Four or five clowns! It's bad enough she has a phobia of bridges, and I had no clue that Montreal was actually an island, until I drove over the loooooonnnnnnngggg bridge to get to the city. Poor Michelle was not off to a good start.
We spent time shopping in Montreal trying to find one of the underground malls because Montreal in January is cold. Damn cold. Plus the sidewalks were covered in snow and slush. For a major city, they do a horrible job of snow removal.
After killing time, it was time for them to find a hotel. As luck would have it, my two other late arriving guests called and said they were ready to meet up. We found out where they were staying and the Mod Chicks were able to get a room in the same place. At last the party of seven was complete.
We spent a little time in the room, resting, goofing off and I was able to open some cards that arrived with the traveling party, an incredible gift bag from Pinky, and a Patriots sweatshirt from Gail, because some idiot (me) had saved a Patriots shirt for Super Bowl and promptly left it in my bedroom. In New Hampshire.
After a long debate, we finally asked the concierge for recommendations for dinner and he sent us to a district with plenty to choose from. On the way, I spotted an A & W Root Beer restaurant and we knew where tomorrow's lunch would be.
We choose a place called Boston Pizza, kinda like an Uno's but better. I wish we had them here.
Despite being a good girl the week into surgery, I was dying for a beer. I had checked with a nurse and she said I could have some but not a lot, so close to surgery. That first one went down fast! The Mod Chicks were getting loud and silly, so I forewarned the waitstaff and the door & window, about the volume, subjects etc. and apologized upfront. Bad mistake. Five weeks later they still won't let me live it down. Except for Gail, whom I considered the quiet one of the four.
After dinner, they dropped me off back at the convalescence so I could make my 11:30 curfew. There were two new people there, one girl Betty who had had surgery there years ago and she was there to accompany the girl who became my room mate at the hospital and surgery day sister, Sonja.
I was up early again the next day. Granted I did not have a lot of beer by my standards, but after going days without any, I felt the effects of the few I had the night before. The girls picked me up for more shopping.
Photo courtesy of Corey Perrine
We couldn't find what they wanted so we headed back downtown. It was cold and walking St Catherine St was ok, until you hit a cross street and the wind came a whippin'!
Photos courtesy of Corey Perrine
We did killed some time doing nothing special. But it did me wonders having friendly faces and not just staying in the house, the day prior to life altering surgery. You can't put a price tag on something like that.
We had my last lunch at the A & W. Unfortunately they didn't sell t-shirts, which is why we went there. But it did allow for some great photo ops. And then my clock watching started. I had to be back at the house no later than 4:00 for surgery prep and inspection.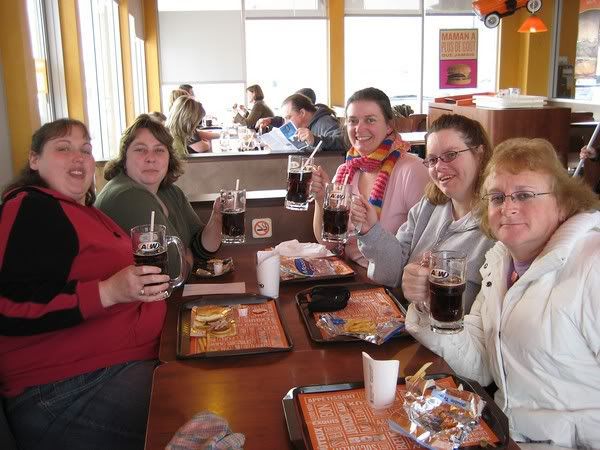 The goodbyes were made at the home. The tears flowed but not as bad as I expected. It was tough saying goodbye to these awesome friends and being left to surgery alone. But having these two days with them was priceless.
Photo courtesy of Corey Perrine
I had my last meal as a phyical male and did an interview in my room. (see the original Day 3 & 4) At 7:00 promptly, it was off to the hospital. I would not be returning the same. 43 1/2 years to get to where I should have been all along. Finally.
----------------------------------------------------------------------------------------
The View From MySpace
I am just so grateful that you were not alone in Montreal. I felt so guilty that I could not be there with you. In hindsight it turned out to be a blessing that I did not make the trip, as we both now know. It's comforting to know that you've got people. I LUV YA GURL!!!
Melinda
--------------------------------------------------------------------------------------
Ah Torkie! I'm not holding the apology personally. I figured you werent talking about me! LOL... I'm so happy I could be there for you. Anytime, anywhere for anything, you know that. Love ya!
Carrie
-------------------------------------------------------------------------------------
I neglected to mention, poor Carrie wasn't feeling well the whole trip. Not only was she sick, but she left her five month old son to come to Montreal. That alone amazes me. Of course, thanks to Gail, Carrie will be forever known as my Lil' Teapot!

All the money in the world can't buy a real true friend. And I have a bunch.
Cynthia
-----------------------------------------------------------------------------------
Wow, Michelle crossed those bridges and faced the clowns just for you! I'm glad you had some friends up there with you.
Jeremy