The year in review posted in January 2009
January 27, 2008 (My Last Day)
Well this Sunday morning, I was awake early as I knew the girls would be coming to get me early. By my standards, I hadn't had much to drink the night before, but I sure was feeling it this morning. Guess it didn't take much to get me out of game shape.
At breakfast, I got to chat with a very nice female to male patient, from Alberta who had arrived the day before. He was there for the third or fourth of his five procedures. And the girl from NJ that had arrived yesterday too. She was having surgery on Monday and was going to be my room mate at the hospital. The rooms at the residence are private, but the hospital is semi-private.
But I couldn't get dressed early. I had to await the arrival of Karen & Corey (from the Telegraph) whom needed to get some shots of me dressing and 'prepping'. The photo shoot went smoothly and some of my favorite photos of me ever, were taken on this morning.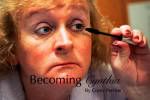 Photos courtesy of Corey Perrine
The girls arrived and sent Gaily in to get me, as she was the "Quiet One"
Gaily & The Residence, my room is the second floor, third from the right, with the white porch.
I had no plans or need to do anything but the girls had some shopping to do. I also decided that I should stop in a pharmacy to get some "supplies" in case I needed them on the way home.
Photo courtesy of Corey Perrine
The girls couldn't find what they needed so we headed back downtown. Montreal, can be damn cold. Walking down St Catherine St was cold. Coming to a cross street, the wind would just whip even colder air. It was brutal! We spent a lot of time in and out of stores, shopping and trying to get warm.
We without question found time for fun and the four MCMers weren't being shy in front of Karen & Corey. But internally I was a bundle of nerves. I knew what was happening in just 24 hours. Everything in my mind was smothered with thoughts of "Last Day, Last Day, Last Day" Yes I did get some laughing and silliness in. But I think even the girls could pick up that I wasn't on my A-game. I certainly knew I wasn't. I tried to hide my fears. I doubt if I was successful. I never bothered to ask.
We went to the A & W Root Beer for lunch, as decided the night before. Just our luck, we went there for the sole purpose of buying T-shirts and they didn't sell them there. We had lunch and got a few photos done. But at this point Karen & Corey left us to get some other things done.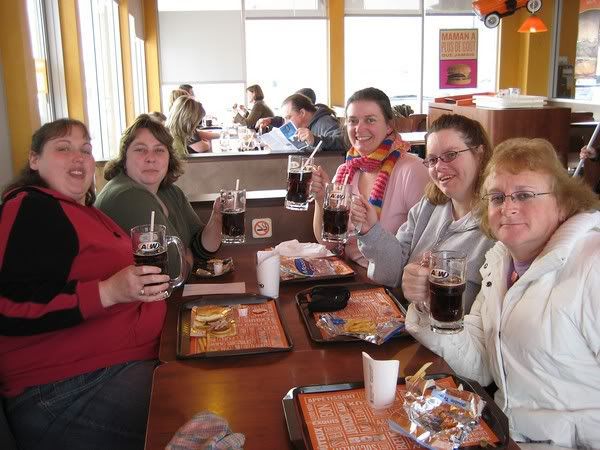 My last lunch before surgery
Quite honestly, they were probably smart and wanted something better to eat. We arranged to meet them back at the residence at about 3:30.
We still had last minute things to get so we went across the street to Wal-Mart (go figure). Linda had some things she needed to bring back to the States for her mom. I had thought about it a decided as comfortable as my car seats were, after seeing the freshly post-op girls, I was going to need a pillow for the long drive home. In hindsight, it was good thinking as I continued to use that pillow through April.
Plus seeing the girls at the house had leisure pants and they looked perfect for the looseness for the swelling. Carrie, Linda an Michelle went about their business and Gaily came with me, helping me pick out my items. It was much appreciated, I don't think I could have handled being alone.
We met again and did a quick swing through the mall. But it was time for me to get back to the
residence. I had to be there at 4:00 for surgery prep and inspection. Plus Corey & Karen were due to meet us. Both parties arrived at about the same time. Before the girls had arrived in Montreal, the thought of them leaving would tear my eyes up.
Photo courtesy of Corey Perrine
Now my worst fear was here. We said our goodbyes in he long sitting porch. Linda boldly said "We'll even come up the next time." I remember my last words as I hugged and gave "I love you's" to them all, I distinctly remember tearfully saying to Carrie (the mom of the five month old, whom I call "Mommy") "Mommy, their going to hurt me!", to which she laughed and replied "But it's for a good thing", OH YEAH........
After they left, Corey came up to my room to set up for a video interview. He needed a few items so he left to go to a local Best Buy and the timing was perfect as it was 4:00, time for Nurse Julie to come in and make sure my prep was good and for the first of my internal flushings..Ughhhhhhhhh
Karen & Corey arrived back at the right time and we were able to start the interview. It was briefly interupted when I was called down to dinner. I didn't want to eat as I had just eaten at the A & W. But I was reminded that I had to, it would be my last meal until Tuesday morning. Corey asked approval and was granted permission by the current group of patients to take photos. I only saw photos from this session once. I'd love to see them again.
One girl, the girl from British Columbia amazed Corey. She had a very tiny figure and was very
beautiful and feminine. Almost too feminine. She was also the girl that was dealing most
uncomfortably with her stent and surgery, and was the main reason I had to "ssshhhhhhhh", the three loud MCMers the day before. As we returned to my room, a stunned Corey said "wow, that's the female to male you mentioned." I had to assure him, no, she was born a boy. But I promise you'd never ever know by looking at her. But she had an advantage. She was young and started her transformation at a young age. The younger you are, the less testosterone damage the estrogen has to fight.
We finished up the video interview and did a few still shots. I was due to go next door to the hospital at 7:00 p.m. At about 6:40 the phone in my room rang as we doing the finishing touches on the interview. It was Wendy & Clarissa, my friends I had just met three days prior, calling to wish me good luck. I was so shocked and so touched, I just burst into a quaking voice and tears instantly. that call meant so much. Unfortunately, the video stopped when the phone rang. Fortunately, Karen had Corey get it going again. That footage wasn't used in the Telegraph's video presentation, but I would truly love to see that again. That is the only existing footage anywhere, showing a side of me no one has ever seen. No one, but Karen, Corey and I.
At roughly 6:58, Nurse Julie was at my door. Time to go. The amazing time proficiency at the
residence is almost that of military precision. As Sonja (my surgery sister), her friend Betty, Doreen, Nurse Julie, my entourage and myself made the trek next door, I let my dark humor out, shocking most especially Karen when I proclaimed "Well we're on the death march!" Only I found it funny.
Karen & Corey toured the hospital and got ideas for the next day. Sonja and I filled out paperwork and were allowed clear fluids. We also had a few prep things to do. After I was done, I turned my cell phone on as Betty and Sonja were talking at the next bed, and in the few minutes (20-30 maybe) I had my cell phone off, I had missed a call.It was a voice mail from a friend and co-worker Andrea. She was quite loud and boisterous in her call. Loud enough that both Sonja & Betty could hear her across the room. Her message said, no matter what, be sure to call me tonight, no matter what time. She was leaving her phone on and she wanted to wish me luck before going to bed. No matter what time, she enforced vocally. I called her back within 30 minutes. It rang and rang and rang. Then her voice mail picked up. Sure thing, ANY TIME, Andrea, LOL.
But it was time for the last of the prep and Betty left. Roughly 11:00 Sonja was brought out to the front desk to complete her paperwork, I was brought out about 11:30. The girl doing my paperwork was beautiful. Plus she had on an old school nurses dress and hat, But instead of being white, it was a very, very soft lavendar. OMG, did it make her even more stunning. She could have asked for credit card numbers with pin numbers and I would have gladly rattled them off for her. Can I change my mind now?
I got back to the room and Sonja and I chatted for quite a while, neither could sleep. We were asked if we needed a sleep pill for the second or third time. This time we both agreed. We continued chatting and in mid-sentence we both drifted off to sleep, almost simultaneously. I awoke Monday morning when the nurses came in to check our vitals. This was it. THE DAY.
---------------------------------------------------------------------------------------------
My post to Racersbored at 10:44 p.m. January 27, 2008
Surgery at 11:00 tomorrow.
Corey & Karen were audio/video interviewing me when the couple from New Brunswick that I had just met, called from home to wish me good luck. And I lost control of my voice and my tears, AGAIN. That was so awesome, but caught on audio/video too.
I'm such a mushy chick now.
Cynthia
ADDENDUM ADDED 2/4/2012
I still have yet been able to hear that interview and call replayed. I fear it's long since been recorded over :(