The year in review originally posted in January 2009
January 26, 2008
Current mood: grateful
Yes, I'm trying to play catch up! One thing I found through this whole revisiting process is, I have no pictures of Karen Lovett and I. None. Hopefully Corey will surprise me with something.
Saturday, I was awake early as the arrival of Gail, Michelle, Linda and Carrie would be semi-early. As I was sitting in my room killing time, I realized that I was in a convalescence home and one of the patients (from British Columbia) wasn't dealing with the stent and other pains well. Of the ten Mod Chicks, I had three of the loudest ones arriving. I quickly fired a
text warning them to "shhhhhhh", much to their dismay. Today, a year later, they still haunt me about this.
They did arrive and were actually quiet (phew). We headed to downtown Montreal and grabbed lunch. Michelle has a phobia of clowns. As we left the restaurant, what was standing right outside the exit? Four or five clowns! It's bad enough she has a phobia of bridges, and I had no clue that Montreal was actually an island, until I drove overthe loooooonnnnnnngggg bridge to get to the city. Poor Michelle was not off to a good start.
We spent time shopping in Montreal trying to find one of the underground malls because Montreal in January is cold. Damn cold. Plus the sidewalks were covered in snow and slush. For a major city, they do a horrible job of snow removal. I had to find a place in an underground mall to have a nail removed for surgery on Monday. For the oxygen sensor, it could not be covered in any way or shape.
After killing time, it was time for them to find a hotel. As luck would have it, my two other late arriving guests (Karen & Corey from the Telegraph) called and said they were ready to meet up. We found out where they were staying and the Mod Chicks were able to get a room in the same place. At last the party of seven was complete.
We spent a little time in the room, resting, goofing off and I was able to open some cards that arrived with the traveling party, an incredible gift bag from Pinky, and a Patriots sweatshirt from Gail, because some idiot (me) had saved a Patriots shirt for the trip and the Super Bowl and
promptly left it in my bedroom. In New Hampshire. The gift bags from Pinky and Laura would be life savers on my return to NH.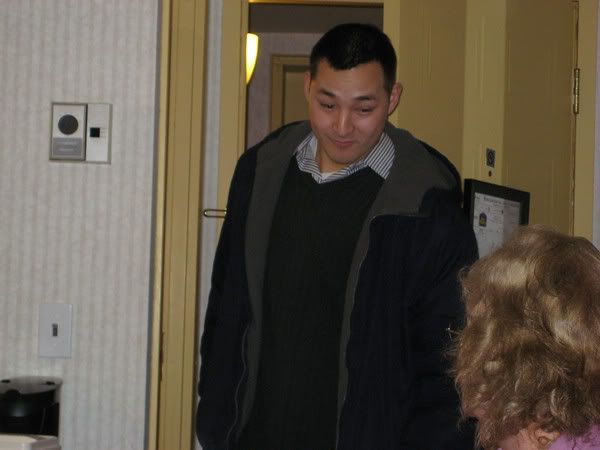 Corey aka The Window
After a long debate, we finally asked the concierge for recommendations for dinner and he sent us to a district with plenty to choose from. On the way, I spotted an A & W Root Beer restaurant
and we knew where tomorrow's lunch would be. A & W a term for was an in joke about a mutual
friend. We choose a place called Boston Pizza, kinda like an Uno's but better. I wish we had them here. Despite being a good girl the week into surgery, I was dying for a beer. I had checked with a nurse and she said I could have some but not a lot, so close to surgery. That
first one went down fast! I had been very good at following the directions prior but damn, I needed a beer.
Photo courtesy of Corey Perrine
The Mod Chicks were getting loud and silly, so I forewarned the waitstaff and the door & window Karen & Corey), about the volume, subjects etc. and apologized upfront. Bad mistake. Except for Gail, whom I considered the quiet one of the four....one full year later I still hear about this at least once a week. But Carrie was in a quiet conversation with Corey. I didn't have to apologize for her. The others........wellllllllll
But at least I know where Ramunto's in Claremont is. ( in-joke payback)
After dinner, they dropped me off back at the convalescence so I could make my 11:30 curfew. There were two new people there, one girl Betty who had had surgery there years ago and she was there to accompany the girl who became my room mate at the hospital and surgery
day sister, Sonja. Both from New Jersey.
I can not stress enough, how valuable these four girls were to me. Anyone thinking of going for a life altering surgery alone. DON'T. A year later I still get choked up about how much they mean to me.
I wish I knew when, where, how or why, but the MCM isn't as close as we were a year ago. It's a damn shame. But the above four, can't shake me, I love them all.