The year review originally posted January 2009
January 28, 2008 (D-Day)
The late night sleeping pill had finally kicked in it seemed
and the nurses were there bright and early to take our vitals. Sonja
being scheduled for surgery at 7:00 a.m. or so with Dr Menard, meant
the lights were on way too early and the chatter going strong way too
early for me. I had the bed near the window, which traditionally is the
first for surgery, but I wasn't going until 11:00 a.m with Dr Brassard.
Strangely, I didn't find this information direct, but actually heard it
from Karen Lovett, the night before.
But in hindsight it was a good thing I was awake early as Karen &
Corey arrived shortly after the vitals check. Good thing. Dr Brassard's
office had granted permission for "all access" for them, but in the
morning of surgery Dr Brassard himself, had a change of heart and
declined access to the operating room. It appears that Dr Brassard has
been burnt by negative press and people stealing his techniques in the
past. I'm not sure how they did it, but the kids from the Telegraph
convinced Dr Brassard that neither was the case. I knew he had been
hesitant about it before, but I gave him a copy of the first article
and assured him the press was all positive. Despite a short scare,
Karen & Corey were indeed going to be allowed access into the
operating room.
It was a cold, but yet bright and sunny day in Montreal. From my bed,
with the blinds open, I could see both my car in the parking lot and
the windows to my room at the residence. A touch of 'home' was never
far away.
Being my surgical morning, I was allowed only water. But my stomach was
in knots. I couldn't have eaten if I wanted to. I played around with
my laptop for a bit, trying to keep my mind occupied. Thankfully the
"Telegraph Two" were asking me questions which also kept my mind
occupied.
And here I must stress, Karen & Corey were there to do their
respective jobs, not to be a friend to me. But just having them both
there made a huge difference in my mindset. One, they kept my mind
occupied. Two, without overtly trying, they were supportive. Three, I
really liked these two people, as people, not reporters or
photographers. Anyone going for a life altering surgery like SRS
(Sexual Reassignment Surgery) really should have some one there with
them. Sonja had Betty, but she was in surgery before she knew it. I had
hours to kill. Having Linda, Gail, Michelle & Carrie with me for 28
or so hours, on the weekend, is a favor money couldn't buy. No matter
what, I could never pay them enough for how much it meant to me. Ditto
to Karen & Corey for being there Monday morning. And in hindsight,
like any news story, they could have moved on and written me off as
history once their job was done. But on my one year anniversary....
Karen called to wish me Happy Anniversary. Corey, I had been in touch
just just weeks prior. Class acts, all the way.
Andrea, the girl who had called my cell phone while I was checking in
at the hospital and begged me to call her back "no matter when",
finally got back to me this morning and it certainly was a highlight of
the morning. A short portion of her call can be heard on the multimedia
portion of the Nashua Telegraph's "A New Woman" article in the In Transition series.
I then tried to call my brother to thank him for his support, but to my
dismay, I got his voice mail. I know my voice was quaking during my
message. I elected not to call home. Why chance stirring my mother up,
which was certainly going to stir me up. Both of which I didn't need. I
was stressed enough.
Earlier than I expected (9:30 or so), I was told it was time to go.
This was it. The last chance to say 'no'. I was brought upstairs where
the operating room was. I sat in a chair waiting the proper nurse. This
is when my nerves truly kicked in. Corey took the photograph seen
below, that when published on the front page of the March 31 edition of
the Telegraph, I had to ask, when and where was that???? I had
absolutely zero recollection of that photo being taken.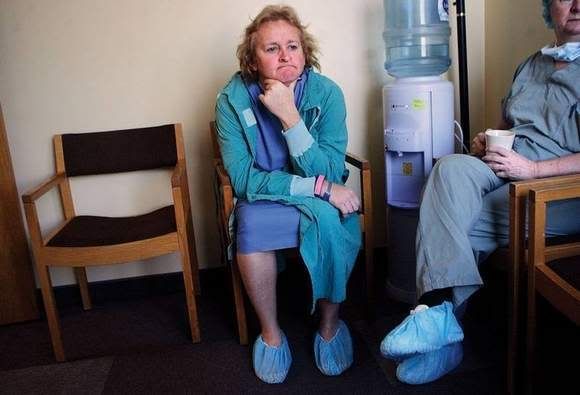 Photo courtesy of Corey Perrine
Eventually I was place on a gurney and brought to the 'holding pen'.
Here a lot of patients were awaiting surgery for a variety of plastic
or gastric bypass surgeries. Corey, Karen and I got a little too loud
and had to reprimanded a few times to keep it down, the other patients
were complaining. Is it out fault we were having fun? LOL. We all had
to get into the operating scrubs and that made for some fun banter as
well. But the last minute questions were being asked. Yes, they still
were in work mode. Me, not so much. Corey asked what I'd be dreaming
under the anesthesia, I replied "Being on a warm beach, with the mod
chicks. Definetely the mod chicks."
Dr Brassard stopped by to make sure all was ok, any last minute
questions, objections or what not. None on my end, we're good to go.
A nurse came and put a heated blanket on me. It was heaven. She told me
to relax and think I was on a warm beach. I inquired where the bar was.
She said right over there, while pointing no where in particular. I
'ordered' an adult beverage and quickly changed my mind, no make it a
double. She smiled and replied "later"
A few minutes went by and I was finally wheeled into the operating
room. By contrast to the heated blanket I had on minutes ago, the room
felt freezing cold. I remember hearing the classical music being piped
in the room and the bright lights overhead. Doctors and nurses attacked
me from all four directions. Just like a NA$CAR pit stop. All four
limbs being attacked with blood pressure checkers, heart monitor,
oxygen sensor, IV's, you name it, I wore it. I felt them put some type
of boot on my calves and I felt the pressure build. They put a mask
over my mouth and then....................Silence.
Months later, Corey showed me a photograph of Karen in her scrubs, in
the operating room, holding up a large hand written note "This is
Awesome". I guess they were able to interview Dr Brassard through out
the entire process. He only "ssshhhed" them at one critical point. I
believe that is the point where he creates the cavity, without
disrupting the vital parts around it, especially the colon.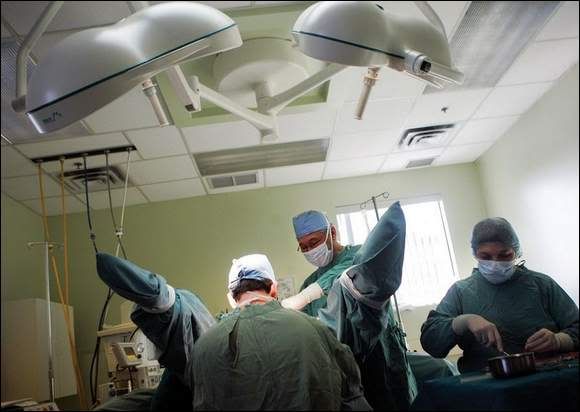 Photo courtesy of Corey Perrine
In what seemed like 'moments', I was being wheeled into another room. I was incredibly
groggy. Oh my gawd I thought. Something went wrong, they had to cancel
the surgery. Where's Corey? Where's Karen? What happened? Those
'moments' were actually three hours later. Corey & Karen were
gathering their belongs in my hospital room and heading back to New
Hampshire. I was in the recovery room. Sleeping.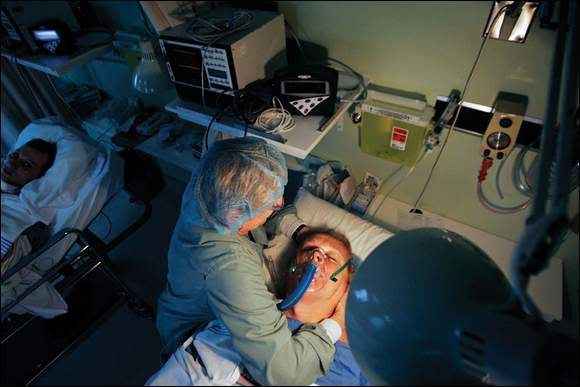 Photo courtesy of Corey Perrine
Days later, I was able to look on Racersbored and see that Michelle had
posted "Well it's 2:00, Cyn must have the new box by now". About 45
minutes later, she posted that Karen had called her and said that
things went well and in Karen's words "It was awesome" Michelle in
turn, called my brother in North Carolina, whom in turn called Melinda
in Memphis. The phone/e-mail tree had begun.
I remember being wheeled into my hospital room sometime later. It was
still semi light outside. How I did it, to this day I don't know, but I
managed to turn on my cell phone and send out four or five batches of
text messages. I believe the phone would only send to 7 or 8 numbers at
a time, so I had to do several groups. The message was a simple "I'm
alive"