Originally posted on September 5, 2007
Updates
Current mood: anxious
Sorry it's been as hectic as can be and I've hardly had time to catch up on
blogs and friends. I know I need to sit down and write to Laura (I hear India
Palace calling our name) and Melinda, whom I'll hopefully see in Niagara
Falls.
A few weeks back, I met with a really nice reporter from the Nashua
Telegraph. I thought it was going to be a one-time interview. But it appears
there's going to be much more going on. She is looking to do a series on the
transgender in New Hampshire. My situation and timing seemed to be
perfect for what she needs. I do believe the series will also include a doctor
from NH that recently completed her transformation. I believe the Telegraph
is going to shadow me at work, home, the race track etc., right through
surgery.
She asked if I'm willing to open up my life and I agreed I would. I spent 40
years being shy, I'm not spending the next 40 years that way. Plus if I can
help one person or help educate the masses, it'll be well worth it. Well, we
start tomorrow at my nail appointment.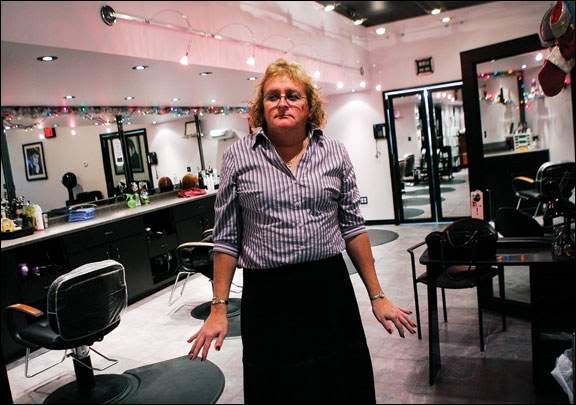 Photo by Corey Perrine
I got home from Oswego Classic Weekend and had to start the rest of the surgery
paper work chase. I stopped by the endocrinologist's office to get his
mandatory paper work and met with Anne Boedecker's support group,
where I hadn't been in months. It was great to see the changes in people. I
made a appointment with a second therapist, Leeann Tigert, as you need two
letters to get approval for surgery. I start with Leeann next week.
As soon as I can gather all of the paperwork, it'll be shipped to Montreal,
next day delivery, as I'm hoping to complete surgery before the end of the
end of the first quarter of 2008. That would give me enough time to heal up
before the start of the racing season. Seeing those early spring shows are
usually two-day shows, I want to be up and around 100%.
Most surprisingly, a girl, Jenn, I had only met a few weeks ago, out of the
blue., sent me an e-mail. She's a former nurse and without me ever saying
anything, the words in her e-mail read "I want to take care of you physically
and mentally after your surgery." She totally floored me. That was so nice to
hear.
Another great girl. Melinda, offered her nursing services as well though
she's too far away and has her own health to improve. But she's a true friend
through and through.
Soon after I made a semi-public announcement about surgery, two awesome
chicks from the Mod Chick Mafia, sent me a totally un-requested surprise.
Without me asking, suggesting, hinting or even alluding to, sent me a note
saying that they were not going to let me go to Montreal alone. Hey are
planning on going up to Montreal with me for a few days. That's true
friendship. Thanks Linda & Michelle, you two just totally blew my mind.
And considering I barely knew you both a year ago…….
I'm stunned.