Originally posted on August 24, 2007
BIG News For Me
Current mood; ecstatic
This is not yet public knowledge, but I know a few close friends tend to read
this, so I'm posting this here.
As many know, I received my permission letter for surgery back in June. But
there was still one major obstacle left to face. The cash.
No thanks to insurance companies, which refuse to help with gender
dysphoria, I needed a ton of cash. Even with two surgical letters.
Well, I've been stressing a lot lately, because as a struggling, single
homeowner, I realistically never, ever figured this would go through. Well
today at 1:30 I got the call. Today at 5:00, I was signing the papers. I have
with a small miracle refinanced my house with me receiving the cash
necessary to complete the journey that is forty-three years over due.
My paper work should be in the mail to Montreal, next week. Hopefully
soon, I'll be announcing my date for sexual reassignment surgery.
I never in my years thought I'd see the day. A special thanks goes to the
supporting friends who've been there through the good and bad.
I'm going to sleep really good tonight. For once.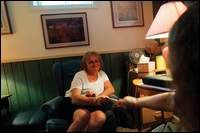 Photo by Corey Perrine